The COVID-19 pandemic along with the racial unrest that followed the murder of George Floyd by Minneapolis police officers brought a whole host of gender and racial disparities within the business and tech ecosystem, from lack of access to lack of capital. In fact, BIPOC-led founders only represent 1.2% of the record $147 billion in venture capital invested in the U.S. last year, according to Crunchbase, and women-led startups represented 2.4% of overall venture funding.
To address some of these issues, the TCSW team consulted with 2021 Fall BETA and MiT Solve Cohort member, Eri O'Diah — who is also founder and chief visionary at SIID Technologies, an early-stage startup applying big data and emerging technologies to evaluate, uncover and correct the influence of human bias on decision-making and communication — to lead DEI efforts at this year's festival.
Leveraging insights gained from her experience navigating Minnesota's business ecosystem, Eri helped the team at TCSW facilitate Lessons from Black Tech Leaders, and the Reimagining of Supplier Diversity discussion session sponsored by Ecolab. Read more about our key takeaways from those both conversations here: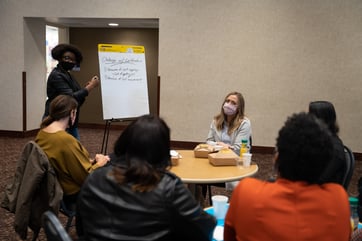 Reimagining of Supplier Diversity:
a conversation with local enterprise procurement, women and BIPOC business community leaders at a breakfast workshop on Friday, September 24th sponsored by EcoLabs and co-facilitated by Char Dobbs — cofounder of The Activate Network, a global community of fiercely inclusive Black Women and Women of Color professionals, entrepreneurs, and leaders — and Mercedes Jaime of ENTER - ENTRA, a Minneapolis-based consultancy that helps startups and small businesses successfully navigate the business certification and government and enterprise level procurement processes, and co-author of Latinas Rising Up in HR.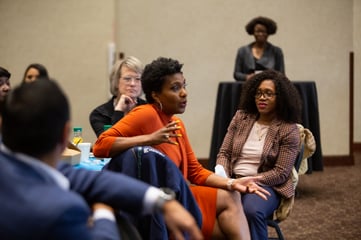 Key takeaways from this session include:
Main challenges

in the certification process include awareness, access, and decentralization of certification agencies and procurement agencies (WBDC, NCMSDC)

What needs to be done to

improve the RFP process

includes education and feedback for applicants, support (ex: training, hand-on support, sponsored programs), and better visibility of and access to support services

What's

needed for supplier diversity officers to meet their goals

includes a mature, centralized procurement process (ex: better leveraging existing tech such as the portals), actionable goals, strong leadership support, and a process that is integrated with other parts of the corporation.
Lessons from Black Tech Leaders panel discussion, featuring
was another insightful session focused on raising funds and attracting angel and VC investors. Key takeaways from this session include: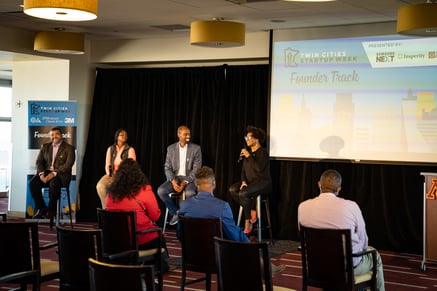 Only three percent of all venture capital is currently going to women and members of the BIPOC community
Main challenges for entrepreneurs of color, specifically in tech, include access to resources, barriers to knowledge, and racial bias
Many corporations after the death of George Floyd rushed to microphones instead of banks — statements were made, but following through on investment was scarce. We need to hold these corporations accountable.


The Continuum of Change
Twin Cities Startup Week (TCSW) builds upon parent organization BETA's commitment to improve representation of underrepresented founders and support of underserved groups across brand engagements: the past two years have been spent evaluating and changing TCSW operational and marketing practices, helping us achieve for the first time in TCSW history a 30% increase in BIPOC representation across panelists and a 6% increase in BIPOC attendance overall.
While this is great news and cause for celebration, there is still a lot of work to be done. In recent years, we've received feedback about lack of awareness, access, and unwelcoming spaces by BIPOC participants. We are actively working to improve awareness through community partnerships and access through the free TCSW Resource Library.
Have feedback on how we could better regulate inclusion and facilitate feelings of belonging? Take this survey to share your thoughts with us.