This year was the eighth annual Twin Cities Startup Week (TCSW), a weeklong festival highlighting innovation and inspiring entrepreneurship in the Twin Cities and beyond put on by BETA, a nonprofit working to accelerate the success of MN startups. The past year has been nontraditional, to say the least, and after putting on the first-ever virtual event in 2020, we were thrilled to be able to host the event in a hybrid fashion in 2021.
From the first MN Music Fest at First Avenue, to interactive sessions across Minneapolis and St. Paul, to bringing back an in-person Fly-In Program, many are saying this was the best TCSW yet… But don't take our word for it. Hear from the team and attendees in our all-inclusive recap: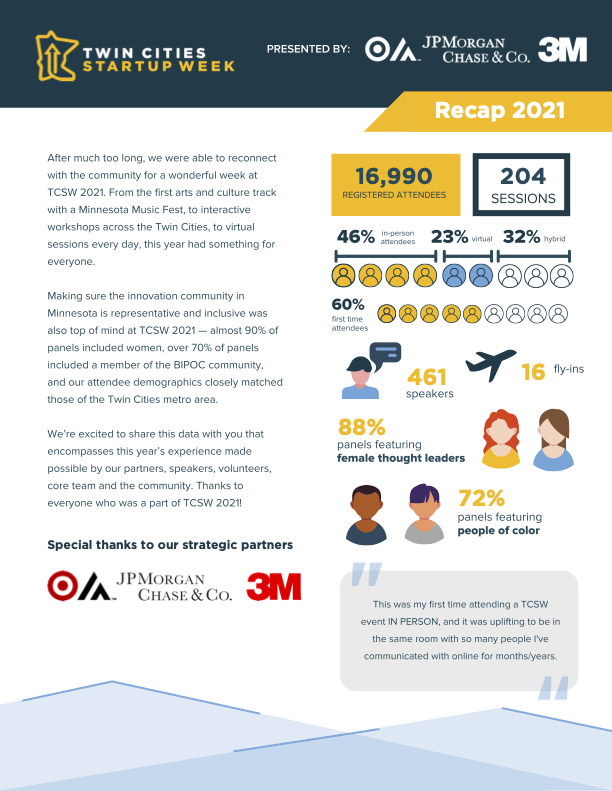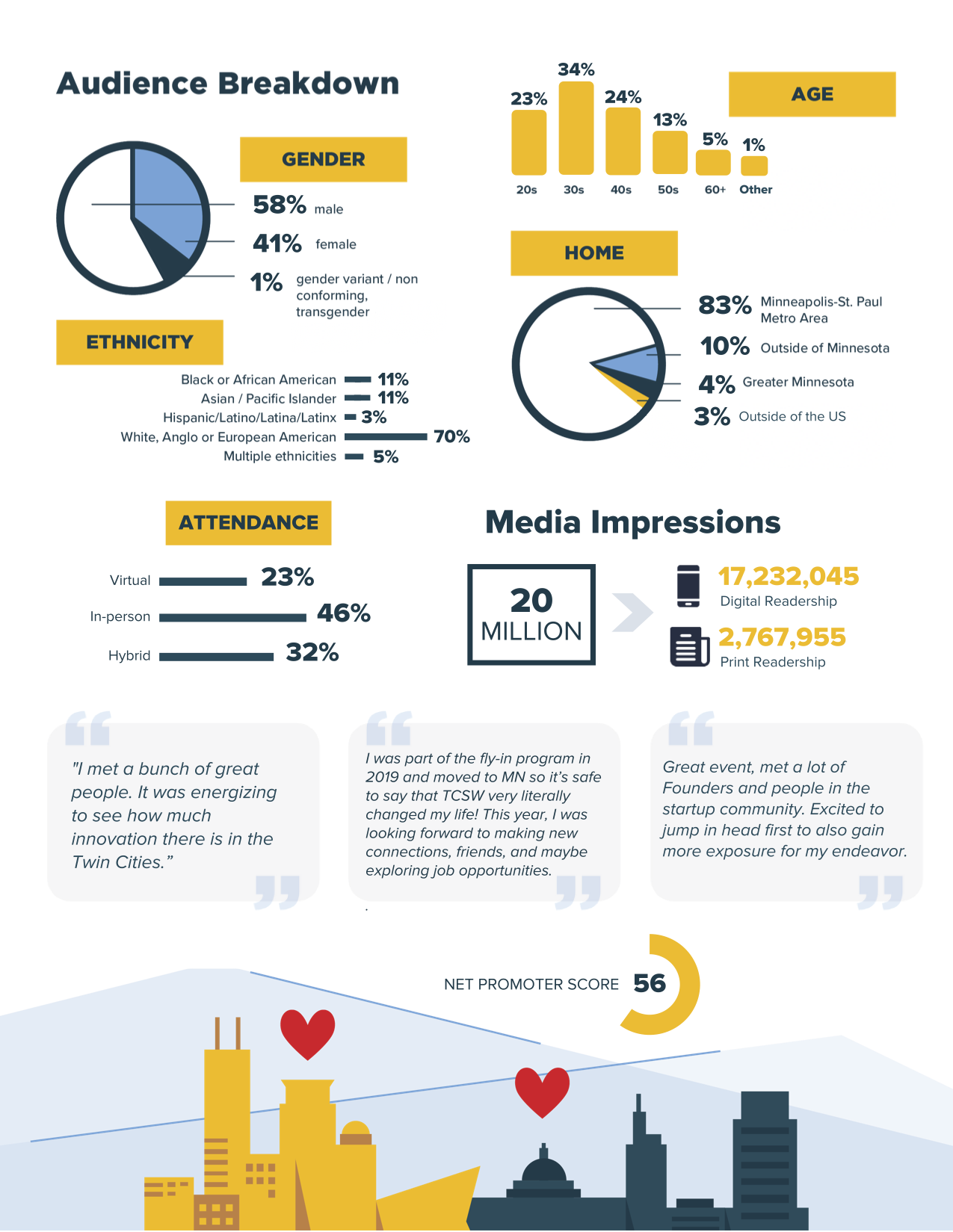 What went well?
"Our goal of making Twin Cities Startup Week 2021 the year of reconnection was achieved," Kelly Schultze, Interim Executive Director of BETA and TCSW, said. Not only was the attendance some of the best numbers to date — with over 16,000 registered attendees throughout the week — but it was also the most diverse TCSW to date from an attendee and speaker perspective.
"We were thrilled to see the hybrid model come to life and work well," Schultze said, mentioning that she believes this model helped achieve higher attendance and diverse audiences. "We are excited to lean into hybrid events as this increases their impact and accessibility."
The hybrid model was made possible by our livestream sponsor Target Accelerators, and executed by local production company Versus Experiential. "As an event professional, it was very exciting to see people be able to come together again in a manner that mitigated risk through a pandemic," Benjamin Van Sistine, Director of Experiential Design, said.
"It was powerful to have the energy that comes with an engaged community coming together. This was only made possible through creative event design, strong leadership with COVID protocols, and a community-oriented respectful group of attendees willing to look out for one another and follow best practices."
Will Preble of Aeterna Media, TCSW's Art and Culture partner, agreed that this year had the most diverse attendance and offerings.
"It looked like, more than any other year, we were able to bring together a very diverse group of people and integrate new communities and networks that weren't previously engaged," he said. "The new concepts seemed to resonate well with the community," he added.
The Arts & Culture Track, full of the new offerings Preble referenced, included:
A pop-up market featuring local artists and shops, complete with a fashion show at Seven Points (formerly Calhoun Square)
Yoga in Loring Park from Alchemy
An art and tech VR panel
A MN Music Fest at First Avenue with local hip hop artists from the Twin Cities, where proceeds went to building a teen tech center in George Floyd Square
MSP Chopped event featuring local chefs and judged by celebrity chef Justin Sutherland
And more! We're excited to bring these and more to next year's TCSW.
What stood out about this year?
The partnerships are what made this the best TCSW to date, Schultze said. In addition to Aeterna Media, EdNorth crafted an incredible Education & Training Track, Eri O'Diah and Beatrice Adenodi helped ensure the TCSW tracks had brilliant and diverse thought leaders woven throughout all events, Char Dobbs and Mercedes Jaime brought an insightful and impactful supplier diversity workshop to the schedule, and venue partners at the Twins Stadium and Science Museum of Minnesota helped TCSW showcase the best of the Twin Cities, she said. Of course, event sponsors made it all possible!
"It takes a village to put on TCSW, and the support and engagement from the innovation community made it what it was," Schultze said.
Preble also mentioned that this year was the first TCSW that included local music and fashion entrepreneurs. "The new faces and groups involved were really cool," he said.
What could use improvement?
As with any other BETA programming or event, we're always looking to improve. One thing that stood out to partners and the community was resources — more timing, more money, and more scope to include more artists, founders, and small business owners into the week. Of course, the global pandemic played a part in this and we're crossing our fingers this isn't a factor come next year!
TCSW also plans to increase engagement with more communities and utilize strategic marketing tactics beyond virtual means, by suggestion from 2021 track lead Beatrice Adenoni.
"Our team has already identified and began executing changes that will improve the festival for all event attendees and speakers," Schultze said. "Lots of big stuff is in the works, and our team is excited to announce more about TCSW structural and content creation changes."
What do you hope 2022 will look like?
Building upon the foundation built regarding the hybrid structure in 2021, as well as arts and culture initiatives, the TCSW team is ready to take 2022 to the next level — in fact, we already have the dates! Mark your calendars for September 16-23, 2022.
"The festival has the ability to impact many lives in business and cause a healthy rippled effect in the communities served," Adenoni said. "With practical strategies, vision, and increase of community involvement, I believe that this can be achieved with the superstar team in place."
"Minnesota is the startup capital of the north, and our team is dedicated to expanding this and ensuring Minnesota is a global destination for innovation and entrepreneurship," Schultze said.
If you were in attendance and want to share your thoughts about TCSW 2021, please fill out this short survey! It is a community-led event and we want to hear from you.