TCSW 2020 Schedule is Live
The day has come — the schedule for the first-ever virtual Twin Cities Startup Week is here!
This year, we have sessions for you every Tuesday and Thursday for a whole MONTH from September 7th-25th on Hopin. This includes six track events, community sessions, and more.
Plus, this year will include access to our Resource Library, housed on our site all year long so you can keep learning from experts long after TCSW is done.
Check out the complete schedule for TCSW 2020 here.
Sneak Peak: Sales & Marketing Track
The first track this year takes place on September 8th, and will focus on Sales and Marketing!
With experts from soona, Denamico, and Hubspot, this track is sure to be a great day filled with insights on how startups can successfully market their company to grow sales.
Here's a sneak peek at what we've got in store:
9:15 am — 9:45 am Harnessing the Power of Trust to Fuel Early-stage Growth
Session by Jennifer Zick, CEO of Authentic Brand
Authentic Brand will present "Trust Equity: Harnessing the power of trust to fuel early-stage growth." This quick session will focus on how brands are built, scaled and sustained based on buyer trust.
Jennifer Zick, CEO of Authentic Brand, will share a formulaic approach to trust building, drawing upon her own entrepreneurial and startup growth experiences, and supported by Authentic Brand's Fractional CMO work with growing companies across the country and around the world.
Participants in this session will learn the following:
The power of a personal brand to fuel corporate brand engagement and trust
How to cultivate a multi-dimensional, authentic personal brand and why it's important
A formula for transfer of trust from a founder's network to a broader ecosystem
An understanding of trust equity and investment
And more!
10:00 am — 10:45 am Breaking Through in 2020 – Using Growth for a Brand Boost
Session by Sarah Kalhorn, Vice President of Hotwire Global
Learn how to beef up your brand through this session hosted by Hotwire Global, an international personal relations and communications agency.
Session Spotlight: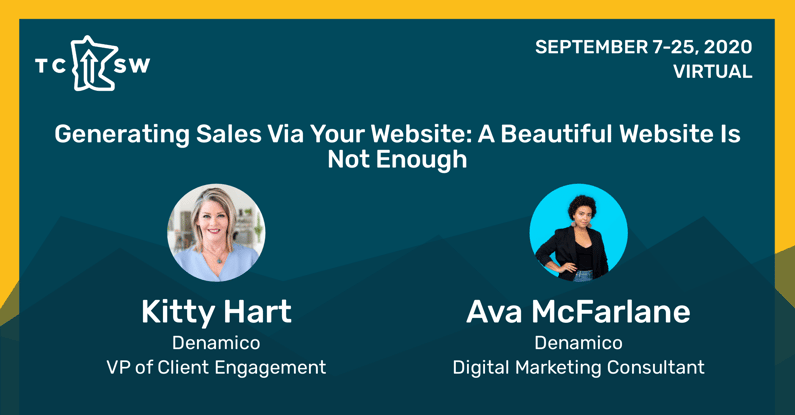 11:00 am — 11:45 am Generating Sales Via Your Website: A Beautiful Website Is Not Enough
Session by Kitty Hart and Ava McFarlane, Denamico
Is your website increasing your close rate or is it just a fancy brochure?
A website is arguably your most important sales & marketing asset, according to top growth agency Denamico. It works nights, weekends, and holidays. But many websites don't pull their weight in the sales process.
Learn how your website can be your most powerful lead generation tool at Denamico's session "Generating Sales Via Your Website: A Beautiful Website is Not Enough" taking place via Hopin at 11:00am on September 8th.
Speakers include Kitty Hart, Vice President of Client Engagement — who has 25+ years of experience helping companies of all sizes develop branding, marketing and revenue growth strategies — and Ava McFarlane, Digital Marketing Consultant who is heavily influenced by her love of human-centered strategy, empathetic communication, and problem-solving with an entrepreneurial mindset.
"Businesses of all sizes need a website that will work for them on nights, weekends and holidays and generates sales as if it were an extension of your sales team," said McFarlane of how this session will be helpful to startups.
Read more on the importance of building a fast-to-market website for the new economy in Denamico's blog. You can also assess your own website and see strategies on how you can immediately improve your website with Denamico's free Website Assessment Calculator.
And of course, to access this great session and more, make sure to register for TCSW 2020.
1:30 pm — 2:15 pm The Future of SEO and How to Win
Session by Kelsey Gernert, Hubspot
In this session "The Future of SEO and How to Win," Hubspot will share its insights on the future of SEO and how to win.
SEO fundamentals that TCSW participants will learn include:
How search engines work
Discovery vs. relevancy vs. authority and how to rank
Cutting through bad (and expensive) SEO advice
Choosing the right SEO strategy for your business size and customer
Scaling SEO as an entrepreneur
Tactics to build authority in search engines
How to build your SEO
2:30 pm — 3:30 pm The Art of Tech: Unlocking Creative Possibilities
Session by James Tucker and Rukia Sheikh-Mohamed, soona
It can feel like we're lumped into two categories: creative or technical. But innovative photo studio soona is here to prove that wrong in their session "The art of tech: Unlocking creative possibilities."
With the combination of art and tech, new categories are possible! From making high-quality media accessible to all to helping creatives focus on the essential parts of their roles, sonna will use real examples of how creativity + tech play together at their startup.
In this session, soona will walk through what's possible with the combination of these two arts and give you tips on how to incorporate them into your work.
And more to come!
Sneak Peek: Founder Track
For September 10, we put together a Founder Track full of events focused on helping founders get where they want to be.
Here's a snapshot of what we have planned so far:
9:15 am — 9:45 am Fundraising During COVID-19
Session by Andrew Felbinger, Urban Innovation Fund
This session "Fundraising during COVID-19: An inside scoop from VCs on what's changed, and how to stand out" includes insight from local venture capital investors from the Urban Innovation Fund, Bread & Butter VC, Matchstick Ventures, and Great North Lab.
Learn how the fundraising landscape has changed as a result of COVID-19 and how to stand out from the pack.
10:00 am — 10:45 am 5 Things About 5 Things That Every Startup Should Know
Session by Karin Peterson, Fredrikson & Byron, P.A.
Join panelists from Fredrikson & Byron for a fast-paced overview of the necessary legal steps startups should take in order to be successful in their session "5 Things About 5 Things That Every Startup Should Know."
Speakers will cover the basics and provide attendees with answers to key questions they face while running a startup, answering questions such as:
Does entity choice matter, and why?
When raising money, what do you need to do to ensure you comply with securities laws?
What kinds of rights should I give investors?
How do I decide who will be an employee and who will be a contractor?
Why do I need to get IP assignments, and when?
1:30 pm — 2:15 pm MN-DEED Supports Startups: Funding, Programs and Resources
Session by Neela Mollgaard, Minnesota Dept. of Employment and Economic Development / Launch Minnesota
The Minnesota Department of Employment and Economic Development (DEED) is the State of Minnesota's principal economic development agency. To improve opportunities for growth, DEED's mission is to support the economic success of individuals, businesses and communities.
In their session "MN-DEED Supports Startups: Funding, Programs and Resources," learn about all of the ways MN-DEED works to accelerate startups.
2:30 pm —3:15 pm The Real Pitch MN
Session by Stephanie Rich, Bread and Butter Ventures
In their session "The Real Pitch MN" seasoned investors from Bread and Butter Ventures will give real time feedback to MN entrepreneurs on how to improve their pitch, their deck and how to get themselves and their startup ready for fundraising.
Stay tuned for more events in the Founder Track and more by tuning into our blog!
About BETA:
BETA is a 501(c)(3) organization that develops Minnesota's next generation of business leaders by inspiring and educating first-time founders. The BETA Group supports startups and small businesses with great scalability potential, so that they can grow to become our next Fortune 100s. Learn more.