The year 2020 will live in infamy. The convergence of a global pandemic, economic uncertainty, and civil unrest has left most of us reeling. Given these unprecedented times, we believe it's more important than ever to bring the Twin Cities startup community together for some knowledge sharing, commiserating, and personal connection. Of course, given the current state of affairs, we've needed to adapt the week to keep our community safe.
If you missed the live version watch a recording of the TCSW Event Host Information Session.

TCSW is going "Virtual First"
We've been keeping close tabs on Covid19 developments and state guidelines for public events and in an effort to keep our community safe, we're implementing a "Virtual First" strategy.
Most sessions will be hosted on the virtual conference platform Hopin while we maintain the option to have some smaller in-person sessions depending on the status of Covid19 in the Twin Cities when September rolls around.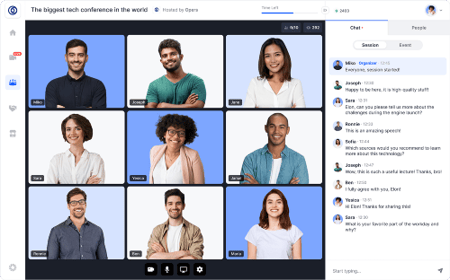 We chose Hopin because it's a video-first platform that most closely resembles the experience of attending a conference in-person. Hopin features include:
Mainstage
Sessions
Networking
Expo booths
If you'd like to check out the platform for yourself watch this Hopin Attendee Experience Demo.
The silver linings of a "Virtual First" strategy are that all sessions hosted on Hopin will be recorded and stored on the TCSW video library for year-round viewing and sessions organizers can invite speakers from around the world to participate. The sky's the limit!


TCSW is spread out over three weeks in September
There is so much amazing content that gets shared during Twin Cities Startup Week we didn't think we could cram it into five virtual days, especially since most people are unable to attend evening virtual events, moving most of our big signature events into daytime time slots. We've decided to spread the week across three weeks in September with tracks taking place every Tuesday and Thursday and signature events sprinkled throughout.
Tracks take place on:
Tuesday, 9/8
Thursday, 9/10
Tuesday, 9/15
Thursday, 9/17
Tuesday, 9/22
Thursday, 9/24

Our preliminary list of tracks:
EdTech
Sustainability
Healthcare
Food & Ag
Sales & Marketing
Founder
Is there a track you'd like to organize for TCSW? Shoot us an email to hello@beta.mn.


Continued focused on diversity, equity, & inclusion
In 2019 we made the rule that all panels with three or more participants must represent the diversity in gender, race, and sexual identity of our community (IE no all-white guy panels). This led to 66% of sessions featuring female thought leaders and 49% of sessions featuring BBIPOC thought leaders.
In 2020 we're continuing our work of making TCSW welcoming and inclusive for all attendees by continuing to require that all sessions submitted include diverse voices. If you have an idea for a session but need help reaching out to diverse speakers check out the MSP Subject Matter Expert Directory. If you'd like to be featured in the directory please complete the 2020 MSP SME Directory Form.

Submit a session to TCSW
Calls for proposals are open for Twin Cities Startup Week. Do you have a great session you'd like to bring to TCSW? Complete the TCSW Submission Form by July 19th.